So my mom is a really good cook...the only problem is, she doesn't use recipes and
I need a recipe
to cook...so I have implored my mom to write out a recipe here and there that I am just desperate to have...
Her Apple Crisp is divine...so here is her recipe and a couple pics of when I made it! It is a great treat!
"Apple Crisp ala my own made up Recipe"
Peel lots of apples and slice (put in cold salt water so they don't turn brown- 1 tbsp salt to 2 quarts water) This means enough apples to cover the bottom of your pan (9 X 13) at least 1 1/2 inches thick. 10-12 big ones maybe
In a medium sized bowl combine:
1 1/2 cup flour (I use rice flour but whatever)
1 1/2 - 2 cups of quick oats
1 1/2 cup brown sugar. I use dark brown.
1 stick salted butter melted
Mix together to a crumbly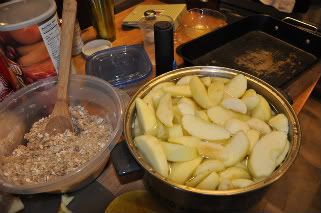 Drain apples and cover bottom of pan and put 1 Tbsp Cinnamon on top
Add 1/4 cup of apple cider or leftover juice of any kind in the fridge
Sprinkle the juice of one lemon over the top. You may use 2-3 Tbsp of Cider Vinegar (Organic) instead of lemon.
crumble the topping over the apples and add another good sprinkle of cinnamon over the top/
Bake 45 minutes at 350 degrees (preheated)
Serve with Vanilla bean or Cinnamon Ice Cream
Thanks Mom!